To measure LED distribution characteristics.

Goniophotometer
Adoption of a movable mirror achieves stable measurement of the light distribution toward all angles without tilting a light source.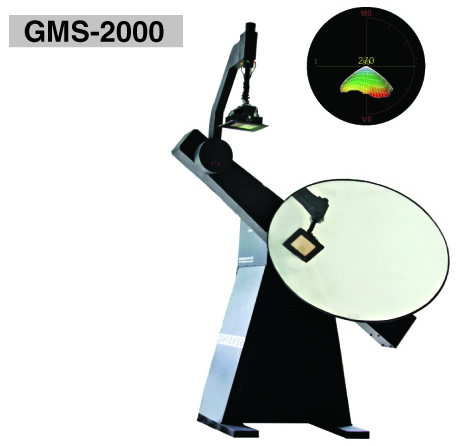 OVERVIEW
In this goniophotometer, the tested luminaire rotates in the prescribed burning position and around the vertical axle and a reflecting mirror rotates around the horizontal axle, meanwhile, a synchronous axle will rotate toward the opposite direction synchronously. The combined motion of the luminaire and mirror permit luminous measurement at the direction of any horizontal or vertical angle without tilting the luminaire, therefore, the luminous intensity will be not variation. The photometer head located at a fixed position of the limiting photomet- ric distance in front of the reflecting mirror to gather the light in each direction.
SPECIFICATIONS
Photometric Measurement range : 0.001lx to 10000lx, Photometric
Accuracy : 2%(stable standard lamp)
Stray Light : less than 0.1%; Angle Accuracy : 0.1 degree;
Driving Angle Resolution : γangle is 0.0016 degree C angle is 0.03 degree; Dimension of Mirror : 1.5m×2.0m
Power Meter : Capacity : DC/AC 600V, 20A;
Accuracy : 0.1%.
AC Power Source
Power Capacity : 5 kVA;
Load stability : 0.2 %;
Output frequency: 50Hz/60Hz, or 47Hz-63Hz;
Capacity of Goniometric Console for measured luminaries

Power : AC/DC 600V/10A 6 lines
Weight : 50kg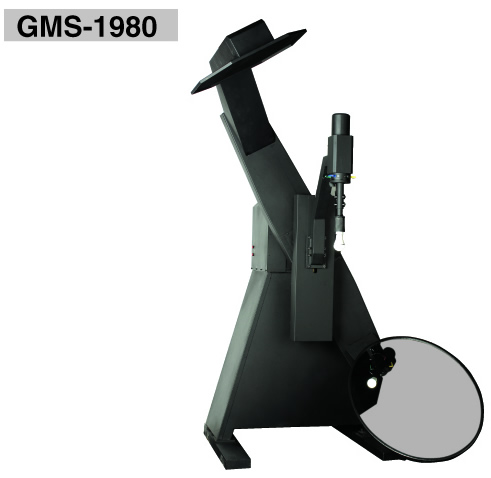 OVERVIEW
C-γ coordinate system photometry corresponds to JIS C8105-5 standard, satisfies the requirements of US Energy Star criteria of IESNA LM-79-08 on the optical properties and electrical LED lighting and CIE 70 recommended structure possible.
It is suitable for the measurement of photometric parameters and other spatial intensity distribution by the method of fixing the light source which a reflector rotates around, particularly floodlighting, road lighting, and indoor lighting.
It is also possible to install photometric detector, the chromaticity detector, in order to measure the non-uniformity of chromaticity and photometry.
SPECIFICATIONS
Themostatic Photodetector,
V(λ) accuracy : CIE-f 1′ less than 0.015
Photometric resolution : 0.00001 lx, 0.001 lx (Optional)
Thermostatic Temperature : 35°C
Angle Accuracy : 0.1 degree
Driving Angle Resolution : γ angle is 0.0016 degree
C angle is 0.03 degree Capacity for tested luminaries
Capacity for tested luminaries

Power : AC/DC 600V/10A×6 lines
Dimensions of max luminaires : M(1.0),S(0.6m)(Customized)
SPECIFICATIONS
Photodetector
Silicon photodetector with fine V(λ) correction , meets the first class standard;
Illuminance range
0.0011X~100001X
Angle accuracy of main axis
0.1 degree, resolution: 0.01 degree
Photometry type
C-γcoordinate system, luminous surface towards to up or down.
Size of oval reflecting mirror
40cm x 60cm
Capacity for testing luminaries
Power
AC/DC 600V/10A x 6 lines, professional slip ring to avoid enwinding of the power cable
Max dimensions of tested luminaires
0.4m; Weight: 10kg
Height of the equipment
1.7m
Test distance
fixed, 3m~6m
Dark room requirement
6.0m* 2.5m* 2.5m(L*W*H)