Integrating Sphere
(total house design, and house paint on reflective surfaces)

Light-resistant integrating sphere
In-house design and in-house paint of the reflecting surface.
Either model of high reflectivity or model of weather resistance selectable.
OVERVIEW
The integrating sphere is used for total luminous flux measurement. It uniforms the light by spatially integrating the collected light of light source. The integrating sphere has highly reflective diffusing plates formed on the spheres internal surfaces. These plates repeatedly scatter light rays from the light source with in the sphere to all other points to deliver uniform brightness distribution so measuring a portion of that light gives the total luminous flux. These years, the usage of integrating sphere for total luminous flux evaluation of light source is increasing. The large size integrating sphere over 1.5M is required for measuring a high brightness light source and a long light source such as fluorescent light.
Our integrating sphere enables a measurement based on the LM-78 and LM-79 standards of IESNA (2π&4πmeasurement is available).
FEATURES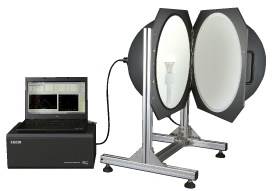 Supports various sizes upon specifications' request.
From 2inch to over 3M (125inch) available.
All types of light source can be measured by changing fixtures and sockets.
The position of a light source and a self-absorption correction lamp is changeable.
Uniformed high reflective white diffusion plate.
As for a high brightness light source, it can reduce the brightness by setting a satellite integrating sphere.
Optcom spheres can be serviced and recycled in the unlikely event of contamination or deterioration on diffusion surfaces.
Specification
高反射率積分球NISシリーズと耐光型積分球RISシリーズがあります。
Integrating Sphere Reflectance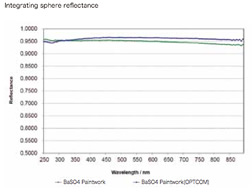 USAGE ENVIRONMENT
Point of use
Indoor (Circulation environment such as a clean room recommended.)
Ambient temperature
5°C~80°C(No sudden changes in temperature)
Relative temperature
30%~70%(No condensation)
Ambient environment
No corrosive substance such as oils and dust Install in a position of dark state.
Vibration:
No vibration required