To measure LED distribution characteristics.

LED LIGHT DISTRIBUTION TESTER
Measures Both the Quality and Intensity of Led Light Distribution Properties and Provides Feedback As Device Measurement Conditions.

OVERVIEW
Essential elements among LED inspection categories are the light quality and intensity. Accurate measuring for optical characteristic requires diverse photo-measurement technology which fits into production lines. This system extracts conditions necessary for optical measuring optical characteristics on production equipment through accurate measurement both of the quality and of intensity of LED light distribution characteristics.
Its calibration functions utilize high-luminance reference LED conforming to strictly national and international specifications.
FEATURES
Automatic measuring of LED light distribution properties.
Calibration by high-luminance reference LED conforming to national and international specifications.
Tester units include an internal power supply, electrical tester, and color tester.
Sample holder has an internal electronic cooler.
Sample setup utilize 2 camera units with high-precision mounting accuracy.
Supporting multi-dice LED.
Optcoms OCM-510 series applied for LED color measurements.
EXECUSION SCREEN

Components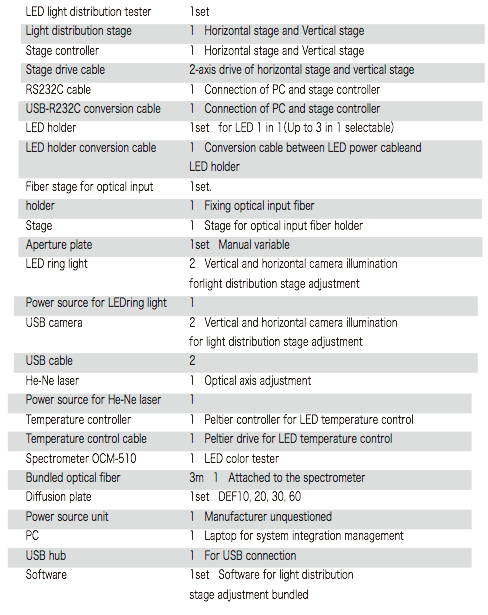 CONFIGURATION EXAMPLE
If lighting manual operation when measuring an LED bulb or LED module, it is possible to use the power of their respective owners. In the case in which the communication control from software, separately,please contact us.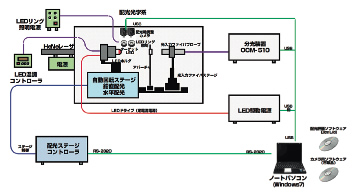 SPECIFICATIONS
Measurement range

Test Parameter (LED power source, Electrical measurement, Color measurement)

depends on the specifications of the power supply. Color measurement range conforms to the wavelength range of the spectrometer as well.

Optical axis adjustment function

Laser light source for optical axis adjustment
Camera for positioning adjustment
Camera to adjust and align the LED mounted in the LED holder to the center position between the horizontal direction and the vertical direction.

Software

Light distribution evaluation software controls the light distribution stage, the spectrometer and the LED power source, and obtains color information, spectral distribution and electrical information. Plus, this software describes every measurement data into graphs and charts.

Equipment size

Usage environment